Although we're well-known as a premier angling destination, there is much more to do at our Alaska fishing lodge besides fishing. Whether it's exploring the Tongass National Forest or watching magnificent marine life, Favorite Bay Lodge is a base camp for adventure, even if you're not an avid angler. Our placid part of Admiralty Island graciously lends itself to various activities, so we'd like to let you know what to expect if you don't feel like fishing!
Whale Watching in Chatham Straits
Like almost any other Alaska fishing lodge, we can provide guests access to the open ocean. But unlike many other outfitters, we also offer whale watching in one of the world's most ecologically diverse waterways. Thanks to an abundance of krill and herring, humpbacks and other whales have an ample food source, which makes seeing them a relatively common occurrence in the summer. The nearby Chatham Straits is one of a few places these majestic marine mammals display their bubble-net feeding technique.
Hiking Through Tongass National Forest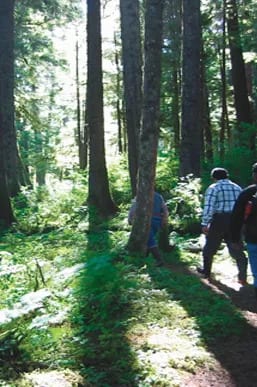 As the nation's largest national forest, Tongass National Forest is a must-visit destination for any outdoor enthusiast. The ancient biome is home to a wealth of wildlife and jaw-dropping scenery. The many rivers and waterfalls create unbelievable photo opportunities, and the stunning array of wild mushrooms and berries are prime candidates for foraging. It's not too often that you can refer to your hiking trip as delicious!
Kayaking in Alaska
Another Alaska bucket list item for adventurers is kayaking. The coastal coves with deep-green ferns and other native plants offer a tranquil retreat on the water. You'll pass by sprawling alpine forests and scenic coastal vistas as you make your way through a vibrant environment. Kayaking in our neck of the woods is a genuinely immersive experience you'll never forget.
All-Inclusive Alaska Vacation Packages
Just because known as an Alaska fishing lodge doesn't mean you can't enjoy the other offerings. And the best part about booking an all-inclusive vacation at Favorite Bay Lodge is the ability to seamlessly go from one activity to the next. Not only will we provide you with excellent accommodations, but we'll also cover your transportation to and from Juneau. Moreover, you'll be delighted to know you won't incur any additional charges for food. 
For more details about why our slice of paradise is anything but ordinary, reach out to us online or call 866-788-3344 today!