There is a place where things have never changed. Where nature still controls the earth and man is merely a visitor. Where humpback whales, bald eagles and brownbear are the rulers of the land.
Welcome to Favorite Bay Sport Fishing Lodge on the placid waters of Southeast Alaska's Admiralty Island. Take a journey back in time to an environment-quite possibly the last frontier on earth.
So, go ahead. Find your wild side.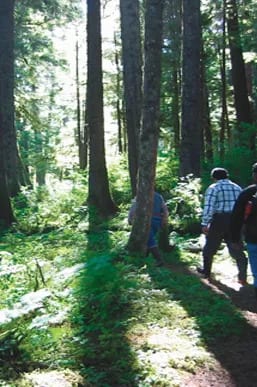 Explore All Things Natural
For the non-anglers in the group, we offer several other wildlife activities – here is just a sampling:
Whale Watching in Chatham Straits
Chatham Straits is one of the world's richest waterways, where krill and herring, one of the whales' favorite food sources, is extremely plentiful.  We are located in one of those amazingly rare places in North America where humpback whales bubble net feed just minutes from the lodge, it is an experience you will never forget.  Both the Discovery Channel and National Geographic have filmed her documenting this incredible sight.  Killer whales and porpoises are also feeding in the area.  Be sure to bring your camera!
Exploring The Tongass National Forest
Experience the Earth as you never have before.  Take a trip through one of the most unique forests in the world.  Rivers and waterfalls create magic photo opportunities against the dense green foliage.  Wild mushrooms and a vast variety of wild berries can be gathered along the way.  Picnic under the canopy of the forest, or on the shore of  a hidden lake.  Home to the native wildlife, it is a memorable experience.
Kayaking
Take a full day guided trip into the most beautiful waterways of Southeast Alaska.  Paddle through fern covered grottos of crystal tidal water and view multi-colored anemone, starfish, coral and other reef inhabitants.  Our guides are local artists, educators and residents who love to explore and provide you with a cultural and historical experience along the way.  Kayaks, rain gear, boots, jackets and lunch are provided.
Pulling The Traps
Nestled back up inside the picturesque inlets of Admiralty, Baranof, and Chichagof Islands we have identified locations to set the crab traps.  You will target the Alaskan Dungeness Crab and sweet Alaskan Spot prawns.  Come on a trip to these inlets and help us harvest "your catch."  Along the way whale watching is a periodic diversion.  The traps placed at the mouth of streams also provide the opportunity to possibly see bear feeding on spawning salmon.  For full day trips, our guests will be able to bait and set your own traps, go salt-water fishing or kayaking, and retrieve the traps on the way back home.  The Chef will prepare a sampling of your catch back at the lodge.